Sports
Alabama vs. Ole Miss live score, updates, highlights from Week 5 SEC football game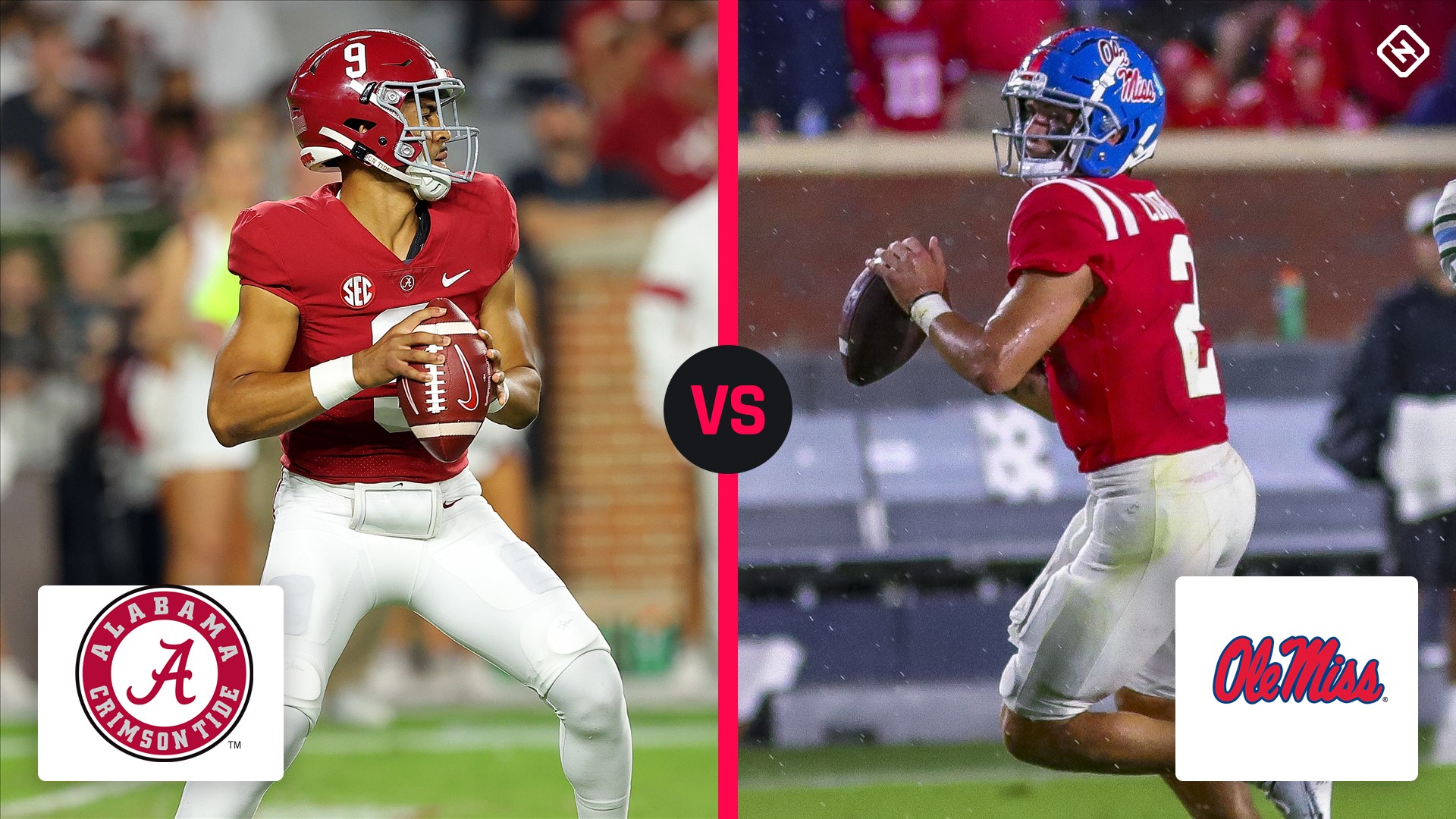 No. 12 Ole Miss will travel to Tuscaloosa, Alabama to take on the No. 1 Crimson Tide in an SEC showdown of potential Heisman contenders. 
The Rebels are seeking redemption after they lost to Alabama 63-48 in 2020. Coach Lane Kiffin, who formerly served as an offensive coordinator for Alabama from 2014-16, helped guide starting quarterback Matt Corral to produce one of the most successful starts in the FBS. Corral completed 66 of 96 passes for 997 yards and totals 14 touchdowns to lead Ole Miss to an undefeated record through three games. Going into Week 5, Ole Miss' offense is ranked first in the FBS with 1,096 total yards. 
During a press conference this week, Kiffin poked at the Crimson Tide heading into the matchup. He also mocked Alabama coach Nick Saban's famous "rat poison" phrase in a tweet praising quarterback Matt Corral. 
MORE: Ole Miss vs. Alabama odds, prediction, betting trends for SEC on CBS showdown
While the Ole Miss appears confident, they will be challenged by a competitive Alabama offense led by Bryce Young. The sophomore quarterback completed 88 of 122 passes for 1,124 yards and totals 15 touchdowns through four games. Despite the high rankings of the Rebels' offense, the Crimson Tide is favored by 14.5 points, according to FanDuel. 
Here's all the information you need to track live updates of the ranked Week 5 SEC matchup. 
MORE: Watch Alabama vs. Ole Miss live with fuboTV (7-day free trial)
Alabama vs. Ole Miss score
| | | | | | |
| --- | --- | --- | --- | --- | --- |
|   | Q1 | Q2 | Q3 | Q4 | F |
| Alabama | 7 | – | – | – | – |
| Ole Miss | 0 | – | – | – | – |
Alabama vs. Ole Miss updates, highlights
(All times Eastern)
4:52: TOUCHDOWN ALABAMA. Brian Robinson rushes in for his second one-yard score of the day. Alabama leads 28-0 with under a minute remaining in the half. 
4:48: Alabama's Phidarian Mathis sacks Matt Corral and forced a fumble, recovered by Justin Eboigbe. Alabama takes over at the Rebels' 14. 
4:42: TOUCHDOWN ALABAMA. Bryce Young completes to tight end Cameron Latu for three yards to earn their second score on fourth down. The Crimson Tide extend their lead 21-0 with 2:55 remaining in the half. 
4:38: Alabama forces the Rebels' third turnover on downs with a stop from Henry To'oto'o. Alabama takes over at the Ole Miss 27. 
4:32: Jameson Williams rushed deep and looked for the pass from Bryce Young, but he overthrew and missed his target. Alabama is forced to punt for the first time in this game, allowing Ole Miss to take over at their 22. 
4:30: Nick Saban calls a time out with 7:19 remaining in the half. 
4:26: Will Anderson pressures Corral and stops Ole Miss from the first down. The Rebels kick the first punt of the game and allow the Crimson Tide to take over at their 17. 
4:22: TOUCHDOWN ALABAMA. Brian Robinson rushes into the end zone for a one-yard score. The Crimson Tide extend their lead 14-7 with 12:14 remaining in the half. 
4:20: Bryce Young shuffled his way through the Rebels' defense for a four-yard gain. Alabama will go for it on fourth down at the one.
First Quarter: Alabama 7, Ole Miss 0
4:08: Ole Miss forces a consecutive turnover on downs to let Alabama to begin their second drive from the 42. 
4:00: TOUCHDOWN ALABAMA. Young fires a pass to John Metchie for a 16-yard score. The touchdown marks Young's 16th touchdown pass this season. The Crimson Tide lead 7-0 with 2:20 remaining in the first quarter. 
3:59: Following review, the call stands as a complete pass. Alabama continues the drive from the Rebels' 16. 
3:56: Young completes to Jahleel Billingsley, but loses control of the ball once he hit the ground. He swooped it back in for the recovery, but the play is under review to determine if the ball was fumbled, or an incomplete pass. The call stands, and Alabama earns the first down. 
3:54: Jameson Williams completes a 15-yard pass from Bryce Young to give Alabama a first down. 
3:50: Jordan Battle and Tim Smith make the stop for the Crimson Tide and and force a turnover on downs. Alabama will start their first possession from their own 6.
3:48: Corral gets called for an intentional grounding penalty, forcing second down from the Alabama 15. 
3:46: Braylon Sanders makes a one-handed catch on a pass from Matt Corral to give the Rebels the first down. 
3:40: Lane Kiffin said "get your popcorn ready" before dropping the mic ahead of kickoff. 
3:39: Alabama won the toss and will defer, Ole Miss will start with the ball. 
Alabama vs. Ole Miss start time
Date: Saturday, Oct. 2 
Kickoff: 3:30 p.m. ET
Alabama vs. Ole Miss will kick off at 3:30 p.m. ET from Bryant-Denny Stadium in Tuscaloosa, Ala.
How to watch Alabama vs. Ole Miss
TV channel: CBS
Live stream: fuboTV
This cross-division SEC matchup will air nationally on CBS. Gary Danielson and Brad Nessler will call the game in the booth. They will be joined by sideline reporter Jamie Erdahl and rules analyst Gene Steratore.
Alabama football schedule 2021
| | | |
| --- | --- | --- |
| Date | Opponent | Time (ET) |
| Sept. 4 | Alabama 44, Miami 13 | — |
| Sept. 11 | Alabama 48, Mercer 14 | — |
| Sept. 18 | Alabama 31, Florida 29 | — |
| Sept. 25 | Alabama 63, Southern Miss 14 | — |
| Oct. 2 | vs. Ole Miss | 3:30 p.m. |
| Oct. 9 | at Texas A&M | 8 p.m. |
| Oct. 16 | at Mississippi State | TBD |
| Oct. 23 | vs. Tennessee | TBD |
| Oct. 30 | Bye | N/A |
| Nov. 6 | vs. LSU | TBD |
| Nov. 13 | vs. New Mexico State | TBD |
| Nov. 20 | vs. Arkansas | TBD |
| Nov. 27 | at Auburn | TBD |
Ole Miss football schedule 2021
| | | |
| --- | --- | --- |
| Date | Opponent | Time (ET) |
| Sept. 4 | Ole Miss 43, Louisville 24 | — |
| Sept. 11 | Ole Miss 54, Austin Peay 17 | — |
| Sept. 18 | Ole Miss 61, Tulane 21 | — |
| Sept. 25 | Bye | N/A |
| Oct. 2 | at No. 1 Alabama | 3:30 p.m. |
| Oct. 9 | vs. Arkansas | TBD |
| Oct. 16 | at Tennessee | TBD |
| Oct. 23 | vs. LSU | TBD |
| Oct. 30 | at No. 22 Auburn | TBD |
| Nov. 6 | vs. Liberty | TBD |
| Nov. 13 | vs. No. 15 Texas A&M | TBD |
| Nov. 20 | vs. Vanderbilt | TBD |
| Nov. 25 | at Mississippi State | 7:30 p.m. |